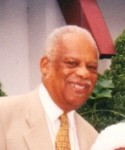 August 9, 1926
-
September 26, 2019
Born in Summit, NJ
Resided in

Chatham

,

New Jersey
Obituary
Reverend Wallace John Lee was born in Summit NJ on August 9, 1926 to the late John Wallace Lee and Mamie Dye. On September 26, 2019 the Lord called him home.
Rev. Lee's early education was completed at Manual Training Industrial School in Bordentown, New Jersey in 1945. Upon his graduation Rev. Lee was drafted and inducted into the United States Army (all unknown to his mother at the time), serving from June 1945 to November 1946 as a Medical Aideman 4th grade. It was during World War II in service to his country in France, Rev. Lee was ordered by his superior to conduct church service. Surprised by this order Rev. Lee responded that he wasn't a minister; the captain's reply was that he had received reports about how he had conducted himself and appeared to be living a life that did not involve doing what everybody else was doing. You see, Rev. Lee had accepted the Lord at a young age while attending the Mt. Olive Temple Holiness Church of America and it was his firm belief "that to be a Christian you have to live as a Christian".
In 1947 after his honorable discharge from the Army, Rev. Lee enrolled in the Newark Business School and then transferred to Drew University of Madison, New Jersey.
In 1952 Rev. Lee embraced the call to ministry and enrolled in The Bible College of Newark, New Jersey graduating in 1953. Rev. Lee continued his ministerial education attending the Institution of African American Episcopal Zion Church completing all required studies in 1958.
It was during Rev. Lee's ministerial educational journey he was introduced to Sarah D. Nelson of Jersey City, New Jersey. Smitten by the lovely Ms. Nelson with the melodic singing voice, Rev. Lee asked for her hand in marriage and the two became husband and wife on July 16, 1949. From this union their only child, a son Wallace William "Skippy" Lee was born. The marriage of Rev. and Mrs. Lee lasted until her passing in May of 2000.
While on his ministerial journey in the African American Episcopal Zion Church, the ordination of Deacon was bestowed on Rev. Lee from Bishop Shaw in 1962 and the ordination of Elder from Bishop Smith in 1964.
Rev. Lee served as an Assistant Pastor at Williams Chapel AME Zion in Passaic, NJ until 1954 when he was granted his first church as the pastor of Centennial AME Zion Church of Closter, NJ.
Rev. Lee loved spreading the word of God's goodness, mercy and grace and he was blessed to have pastored not only at Centennial from 1954 to 1959 but also at:
People's AME Zion Church in Carteret, NJ from 1959 to 1964
Rosseville AME Zion Church in Staten Island, NY from 1964 to 1973
New AME Zion Church in Paterson, NJ from 1973 to 1977
Williams Chapel AME Zion Church, in Passaic, NJ from 1977 to 1980
Wallace Temple AME Zion Church, in Bayonne, NJ from 1980 to 1994
Antioch AME Zion Church in, Linden NJ from 1994 to 1998
In addition to his ministerial duties Rev. Lee also served as:
President of the Bayonne Chapter of the NAACP
Member of the Bayonne Rotary Club
President of the Black Clergy of Bayonne NJ
Member of the Bayonne Hospitality Committee
Member of the Bayonne Youth Committee
Member of the Interdenominational Committee of Bayonne NJ
Even when Rev. Lee retired from pastoral duties his desire to spread the word of God led him to support, provide ministerial technical assistance and even preach at churches that were just beginning to plant their own seeds in the building of God's kingdom, two such churches were:
Arms of Christ of East Orange, NJ
Garden of Prayer of Newark, NJ
Rev. Lee was known to have a passion for men and youth ministry, believing in increasing the membership and activity of the men in the church as well as providing youth with the Christian foundation, understanding and direction to equip them with the tools needed to live a Christian life in today's society.
Rev. Lee in addition to the building of God's kingdom worked as a:
• Driver for the Veterans' Hospital of Lyons, NJ, driving approximately 300 miles per week
• Chaffuer for the CHUBB Corporation, driving between 300 to 400 miles per week.
(Anyone knowing Rev. Lee knows his love of driving and logging that many miles per week was never a chore but a joy.)
• Mail Room Supervisor for the CHUBB Corporation until his retirement having achieved twenty-five years of service in 1998.
At a time when most people would believe that the "love train" has left the station Rev. Lee found himself being hit by cupid's arrow in the form of a diminutive 4'9'' women of God; Sadie Sims. Rev. Lee and "Mother" Sims as she was affectionately called knew each other from his days at Mt Olive Temple Holiness Church of America. Grieving for the loss of his wife Sarah, Rev Lee and Mother Sims talked about familiar history, the goodness of the Lord and the trials of being a widow and widower. These talks manifested into a courtship that blossomed into love and on May 23, 2013 at the age of 87 (Mother Sims was 103 years young) they eloped at the East Orange, New Jersey courthouse. This union lasted until Mother Sims' passing on January 14, 2015.
On January 18, 2018 Rev. Lee was elated to learn he had become a great-grandfather with the birth of Xavier Wallace Lee the child of his grandson; Curtis John Lee. His joy
became jubilation when in May of 2018 he christened his great-grandson.
Rev. Lee leaves to cherish his memory, his grandson Curtis John Lee and great-grandson Xavier Wallace Lee of Ocala, Florida, a host of nieces, nephews, cousins and brothers and sisters in Christ.
To send flowers or a remembrance gift to the family of Pastor Wallace Lee, please visit our Tribute Store.
Services
Visitation
Union Tabernacle Gospel Church
756 Dr. Martin Luther King Jr. Blvd
Newark
,
NJ
US
07102
Service
Union Tabernacle Gospel Church
756 Dr. Martin Luther King Jr. Blvd
Newark
,
NJ
US
07102